Seattle's 16th Annual Night Out!

Tuesday, August 1, 2000, 6-10 PM

North 54th Street's 4th Annual Night Out!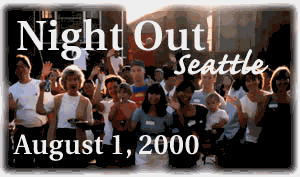 ................
National Night Out is a time for neighbors to get together and reaffirm their commitment to making their neighborhoods safe and livable. Seattle has one of the largest Night Out Celebrations in the nation. We also have some of the most creative and unique festivities, such as lawn bowling, street dances and poetry readings. Last year, over 550 neighborhoods registered for Night Out. Other ideas:
Neighborhood History Project: Survey everyone on the block about their memories of how the neighborhood has grown over the time their have lived there. Ask long-time residents if they have old photos and put together a scrap book

Have a parade: Let the kids dress up and have a special "Night Out" parade
Got some more suggestions? Want to help plan this year's block party?
Please join us for an informal get-together and planning session at our home.
Tuesday evening , July 25th from about 7PM-9PM
Steve and Naoko Magasis' house
Please RSVP:
784-9980
or
We can discuss the August 1st party, as well as associated
If you can't make it to the planning session, feel free to vote or leave comments below. In any case, we'll see you at the Block Party on August 1st!

N54 St's message board
Welcome to North 54th Street's message board
................
The following are guidelines for Night Out street closures:
The street to be closed may only be a single block on a residential street. No intersections or arterial streets will be closed.
The street will be barricaded and signed. The block will provide its own barricades.
The street closure will be part of the block's Night Out activities and the street barricaded for a reasonable period of time for Night Out activities (e.g , 6-10 PM).
Even though the street is closed, emergency vehicles must be able to get through. Neighbors will respond to each end of the street to remove barricades in case of an emergency and keep tables to one side, leaving lanes open for emergency vehicles.
We'll clean up the street following our Night Out Event.
If you have any questions about street closures, call 684-7555.