What Block Watch
Is and Is Not...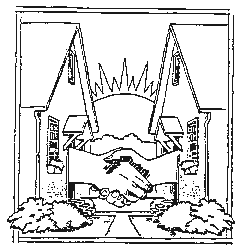 What Block Watch is Not:
Block Watch doesn't require you to perform any special tasks, go to a lot of meetings, or take on extra responsibilities. You don't have to patrol the neighborhood, or chase burglars. Block Watch just involves being alert as a part of your everyday life. For example, when you go to the window to open or close the drapes, instead of just opening or closing them and turning away, you might stop for a second and glance around the neighborhood to be sure everything is okay. When you go out to get in the car to go to work, instead of heading for the car with "tunnel vision," glance up and check the neighborhood. It is this kind of "watching" that is involved.
Being a part of a Block Watch doesn't require you to live in your neighbor's hip pocket, or tell them every aspect of your business. You can still conduct your life in privacy. All it requires is that you and your neighbors be familiar enough with each other to know who belongs in the neighborhood and who doesn't; which cars are a part of the neighborhood and which aren't; and when something suspicious is going on. It doesn't require you to be any friendlier than you want to be.
Block Watch isn't only for home owners. One aspect of the program--upgrading home security--is more easily implemented if you own the home, since you would need to get the landlord's permission to make changes such as installing new locks. (We've found, by the way, that landlords tend to be more cooperative in making security changes if you have a formal home security inspection and can present the landlord with an official Seattle Police Department report with security recommendations.) But the other two aspects--engraving an identification number on your property, and the Block Watch concept of neighbor watching out for neighbor--are just as important for renters as for home owners.
What Block Watch Is:
Block Watch is really just an extension of what you are probably already doing on an informal basis. We tend to know and watch out for our closest neighbors, but a group of neighbors at one end of the block who are doing this may not know the group of neighbors at the other end of the block. A Block Watch makes this attitude of watchfulness more systematic, and can provide a block map with neighbors' names and telephone numbers that can be used in case of an emergency.
2. Block Watch involves two commitments:
a commitment to be concerned about your neighbor's property as well as your own, and
a commitment that when you see suspicious activity, you will take action by calling your neighbor or 9-1-1.
------------------------------------------------------------------------
It's as simple as that, but very effective. Independent studies have shown that an active crime prevention program which includes Block Watch can reduce the likelihood of your home being burglarized by up to 60%.
------------------------------------------------------------------------
Seattle Police Department
Community Crime Prevention
206-684-7555